SPLASH PAGE
•
HOME
•
AN INTRODUCTION
•
WHAT IS POLYNESIAN POP?


Featured Site
The Tiki Tones

This is one of the first Tiki sites I found on the web a couple of years back when I learned there was a Tiki movement. Although I liked the original site design better with it's lava rock background, bright lettering and dancing Tiki gods animation (oomba-chaka oomba-chaka oomba-chaka) the new site has one thing that makes it worth visiting: full length online music!

Their album "Idol Pleasures" is now out of print but they've been so kind as to make the songs available over the web. The Tiki Tones are purely an instrumental set in the best Ventures tradition with solid rhythms and atmospheric guitar work - music that will set the proper tone for any tiki party.

Excuse me, but I've got to get a set of those Tiki Tones Neck Charms...
TIKI LINKS ARCHIVE
Sounds | Mugs & Stuff | Architecture | Culture | Grog | Trader Vic's | Businesses | Historical | Pop Culture | Link Pages | Miscellaneous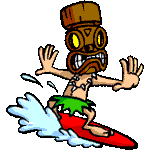 Search topics:
Polynesian Pop
Hawaii
South Pacific
Lounge Culture
Surf MusiC