Mark Taylor's Tiki Bar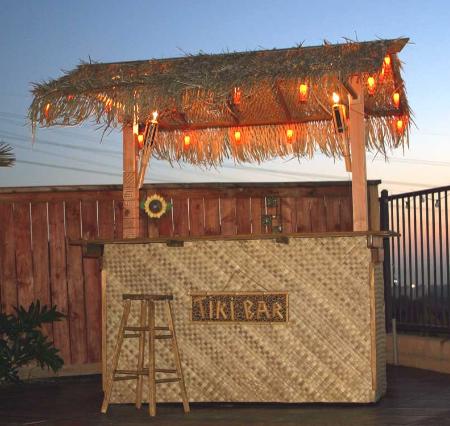 Site visitor Mark Taylor sent in this photo of his newly completed Tiki Bar. Here's his explanation of its creation:
"I am finishing up construction of a Tiki bar for my home. This has become a several weekend project and my whole neighborhood seems to drink beer at my bar while I work on it. You'll notice I'm still working on carving the main roof supports.
"The bamboo matting around the front and the thatching for the roof came from www.tikibosko.com (the roof is 4 pieces of 3' x 4' palm leaf roof thatching)
"They only charged $9 shipping to get all the materials to me (120 miles). I doubt it would cost more that $25.00 to Seattle. (Where I live - KEV)
"I bought normal oil Tiki torches and converted them to electric by putting a 12volt bulb where the wick goes. I was at a new Tiki store in San Diego area and found Tiki x-mas lights which I converted from 110v to 12v and put around the outside of the roof. I have an inexpensive auto battery in the base of the bar that will run the lights for apox 60 hours without charging. I'm thinking of putting in a stereo which will greatly reduce this."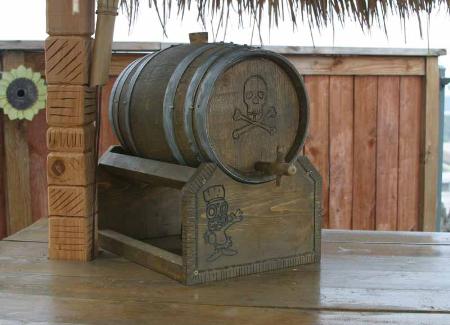 "I wanted something unique that I could serve a LARGE amount of grog from. I got it in my head that I wanted the equivalent of an old pirates whisky barrel. It took a really long time of searching before I found a 5 gallon oak barrel @ www.redhillgeneralstore.com. Note: it's paraffin lined so that you don't taste much of the oak barrel. From the same website I also purchased the wood faucet. I had to build the stand for the barrel and decided to carve SNIKI TIKI into the stand. I also used the Dremel to carve the skull and cross bones into the face of the barrel."
"After a few parties where the barrel has been present, my neighbors now refer to the barrel (and it's contents) as 'TIKI TROUBLE'."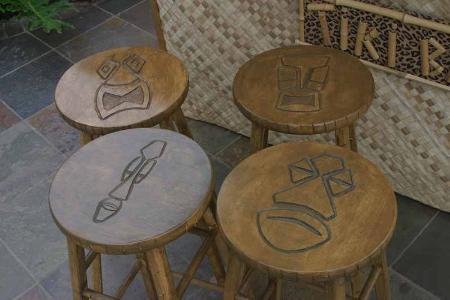 "I bought 4 alder barstools from a unfinished furniture store (about $30 each). I traced tiki images found on the web to the tops of the barstools. I used a Dremel tool to carve these traced images into the wood."