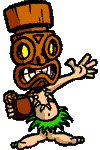 May 25, 2004 - I was recently contacted by a newspaper reporter from a town in Ontario, Canada asking me for information on Tikis and Tiki culture in their town. He was doing a story on the local hockey team that was named, of all things, "The Tikis". I gave him my take on the subject and pointed him to a few web sites with better information than mine. My question to you is: "Did Canadians have as big of a Polynesian Pop infusion as mid-century America, and did it happen at the same time?"

Additions this time around:
- A new Tiki Business in the Web Tiki section: Paradise Found Online –Tropical Décor & Tiki Supplies.
- An old photo of me in Hawaii in the Photo Album.

---
Januray 8, 2004 - A new Tiki Business listing added in the Web Tiki section: Tahiti Expressions.

---
November 2003 - Once again I am utterly amazed that I haven't updated this site in almost a year...
At any rate, the word for this update is: "Googie." In one of my random perusals of the internet I discovered that the style of architecture prevalent in the Polynesian Pop era had a name: "Googie". It came from the name of the L.A. business that first featured this style, the "Googie Coffee Shop". You can read more about it at Googie Architecture Online.
Check out the latest Featured Site in the Web Tiki section, "Flounder Art".

---
November 2002 - Just a few updates to report this time around: New photos (some of me, yikes!) have been added to the Photo Album, and there's a new Featured Web Site ("YoYo Island") and a couple of new links in the Web Tiki section.

---
July 2002 - Hey, I'm back and it's only been 2 months! I'm freshly tanned from our trip to the Bahamas on a Windjammer Barefoot Cruise (our ship was the S.V. Legacy). I highly recommend this to anyone who wants a very casual, friendly atmosphere during their vacation. The ship was relatively small, about 150 people, so you got to know the crew and many of your fellow passengers by name. One daily ritual was the snack time featuring bottomless Rum Swizzles. The open-air, on-deck bar was very cool for getting plenty of fresh ocean air and socializing. As is usual for vacations, I was't ready to come back quite yet.
I've done a bit of code cleanup on the site and added a new Photo Album section. More photos will be added as time goes by - I have a whole bunch in my files with Tiki/Polynesian themes, and some with me in 'em, too (ooh, scary thought...)
Also, take a look at the latest Featured Web Site that came to me from Australia of a great new cartoon in development starring "Super Mahi Tiki, Defender of Bikini!"
The last item is to draw your attention to the new "Lodging" section of "Web Tiki". The idea is to start adding info on Polynesian hotels and motels across the country so you know where to visit on that next road trip.

---
May 2002 - Well, it's been another lengthy pause since my last update - amazing how fast the time goes by. Thanks to everyone who responded to my last "rant"! I've received many encouraging emails from fellow fans of the Tiki. Good to know you're all out there!
Between last July and now I've added a few links to the Web Links page and *finally* posted a new "Featured Site." I haven't gotten around to updating "Sniki Tiki" so we'll have to live with our Tiki-Wannabe Witch Doctor for a while longer.
On the personal side, last July my wife and I spent a fantastic week in Hawai'i, first on O'ahu and then Maui. Later that summer we visited a new local Tiki Bar in Seattle called "Tiki Bob's Cantina". I started writing a review but that got sidetracked somewhere along the way - it was a decent little place but we went pretty early in the evening so there wasn't much going on. This summer we'll be heading to the Bahamas on a Windjammer Barefoot Cruise. If I get my act together I'll post some photos when we return.
Hope to hear from some more of you soon. Drop me a line at kev@kevscartoons.com! Aloha!

---
July 2001 - Yikes! I never imagined it would be so difficult to keep this site updated! I think it's been over 2 years since I touched these pages. I had all these grandiose plans to add all kinds of pictures, reviews, pithy prose - all those things that make for an entertaining web site. But now that I think about it, I never got ANY feedback so I guess no one was really expecting much... *sigh*
I've done a check for broken links on the the Web Links page and added a few new links I came across while doing searches for sites that had changed URLs. Some of the fun ones like "Baby Doe's Tiki Mugs" have disappeared, there are some other interesting ones to help fill the void.
I have intended to animate all the "Sniki Tiki" art on the site, but now that I'm looking at him again, I think he needs a redesign. He looks more like a witch doctor in a wooden mask rather than an animated, partying wooden tiki god.
To all 200 or so of you, thanks for visiting. Drop me a line! I'd love to hear your comments and suggestions.

---
1999- Yes, this is another Tiki site, but then again, can there ever be enough?!
I've been searching the vast ocean that is the Internet for anything and everything related to that icon of leisure, the Tiki. Like the Polynesian Islands dotting the South Pacific, the sites I've been able to find are like pleasant landfalls amidst an endless sea of web sites. However, this site is not just about web sites. My explorations will encompass both the real world and cyberspace, the past and the present.
Have you ever dreamed of a tropical paradise, far away from work, traffic, and bills? Then join me in discovering and celebrating the carefree world of the Tiki...